Hockey Memorabilia Maker's Infringement Lawsuit against Competitor Melts Away
William Grondin ("Grondin" or "Plaintiff"), a creator and seller of hockey memorabilia, recently found himself iced out of the scope of copyright protection in his infringement claim against Fanatics, Inc. ("Fanatics" or "Defendant") over competing puck-shaped memorabilia incorporating melted ice gathered from championship hockey matches. Kicking Grondin's claims out of the crease, a Pennsylvania district court ruled that Plaintiff could not copyright the idea of storing game rink ice in a piece of memorabilia—only his particular expression of that idea—and the hockey puck-shape expression of the idea is so "commonplace in the world of hockey memorabilia that it alone cannot establish the necessary similarity between the two works to make a viable infringement claim." (Grondin v. Fanatics, Inc., No. 22-1946 (E.D. Pa. Jan. 10, 2023)).
Back in 1998, Grondin scored a copyright registration for his limited edition hockey puck-shaped "Slice of the Ice" collectibles infused with melted rink ice gathered from championship hockey games (Copyright Registration Number VA0000723553). Since then, Grondin claims to have sold his collectibles throughout the United States for decades. More recently, sporting goods and memorabilia manufacturer and retailer Fanatics began selling its own line of rink ice-filled crystal pucks, along with certificates of authenticity (a feature that Plaintiff claims mimics his own Slice of the Ice product).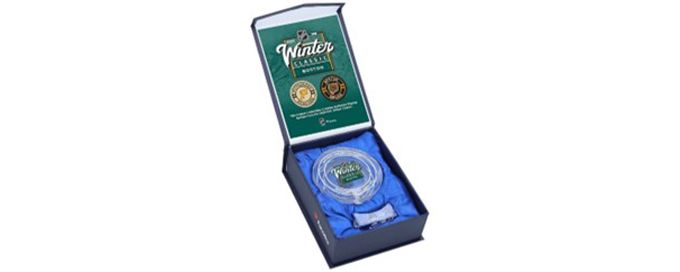 In May 2022, Grondin filed a complaint (later amended in August 2022) alleging that Fanatics infringed upon his copyrighted work. In his amended complaint, Plaintiff alleged that Fanatics produced, without authorization or license, its own ice-filled pucks that were substantially similar to and infringed upon his own Slice of the Ice pucks from memorable hockey games ("Defendant has further imitated Plaintiff by storing the melted rink ice in precisely the same manner as Plaintiff, inside a sealed hockey-puck-shaped cavity"). The complaint asserts one copyright infringement claim and requests monetary damages and injunctive relief that would bar Fanatics from manufacturing and selling the allegedly infringing products.
In August 2022, Fanatics responded with its own one-timer, filing a motion to dismiss the amended complaint. And, in a face-off in a Pennsylvania district court, Fanatics emerged victorious. (Grondin v. Fanatics, Inc., No. 22-1946 (E.D. Pa. Filed May 18, 2022).
As the Pennsylvania court stated, a copyright infringement claim has two elements. First, a plaintiff must allege ownership of a valid copyright. Under the liberal standard of review applied to motions to dismiss, the court ruled in Grondin's favor on this first element. The second element, which requires a plaintiff to allege that the defendant copied original, protectable elements of his work, warranted more attention.
This second element is further broken down into two components: (1) copying and (2) material appropriation. To meet the requirements of the copying component, which focuses on how similar two works are and whether the defendant used the plaintiff's work to create its own, Grondin had to successfully allege either that Fanatics directly copied his work or that copying can be inferred based on similarities between Grondin's "Slice of the Ice" pucks and Fanatics' crystal pucks.
In essence, in its substantial similarity inquiry, the court examined whether Grondin's Slice of the Ice and Fanatics' competing products are substantially similar enough that the lay observer would believe the Defendant copied protectable aspects of the plaintiff's copyrighted work. Ordinarily, such a question of fact is better suited for assessment by a jury, but the court noted that the Plaintiff's infringement claim could be decided as a matter of law, given that the allegedly similar elements are so common or inherent to the underlying ideas being expressed that copying of someone else's works cannot be inferred.
The common copyright axiom states that only particular expressions of ideas, not ideas themselves, enjoy copyright protection. So, as the court stated, the idea of filling hockey memorabilia with melted ice is not protectable, but the expression of pouring rink ice into a hockey puck-shaped piece may be. While it is true that the hockey puck shape is not an inevitable expression of infusing memorabilia with ice—Fanatics itself pours ice into Stanley Cup replicas and snow globes as well—nonetheless, the court found that a hockey puck design flows predictably from the general idea of creating hockey memorabilia ("In other words, a puck is always going to be a puck, an immediately identifiable element in the sport of ice hockey").Therefore, the court ruled, their shared use of hockey puck-shaped elements does not render "A Slice of the Ice" memorabilia and Fanatics' crystal pucks substantially similar under the material appropriation inquiry.
[Below, "Colorado Avalanche Fanatics Authentic 2022 Stanley Cup Champions Crystal Stanley Cup Filled with Game-Used Ice From the 2022 Stanley Cup Final", from fanatics.com]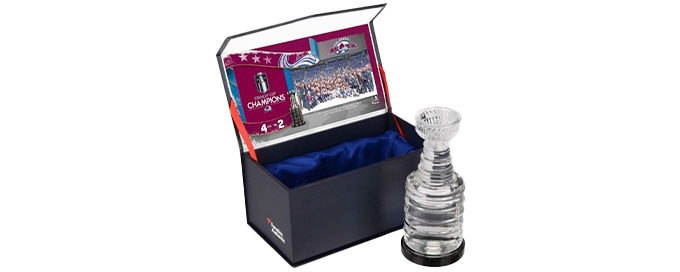 After the court went on to rule that certain utilitarian features of the Plaintiff's Slice of the Ice memorabilia (e.g., clear, hollow cavities to hold and display melted rink ice) were not protectable under copyright, the horn sounded on this litigation, and the court dismissed the infringement claim.
The court's ruling has had a chilling effect on Grondin's suit, for now. Grondin's infringement claim, however, was dismissed without prejudice, giving Plaintiff the opportunity to amend his complaint to plead actual copying and access or allege other protectable aesthetic or non-utilitarian features in order to establish substantial similarity between his creations and Fanatics' products. Thus, it appears there will be a rematch between these two litigants; on January 24, 2023, Plaintiff filed a motion for leave to file a second amended complaint (a request that was opposed by Fanatics). On February 16, 2023, the court granted Plaintiff's request and a second amended complaint was filed. Not surprisingly, Fanatics shot back with a renewed motion to dismiss, returning this litigation right back to center ice. Stay tuned.