This Women's History Month, we hear from two of our leaders, Daryn Grossman, Managing Partner of the Firm, and Keisha-Ann Gray, Partner in the Labor & Employment Department, who share their insights and inspirations in response to timeless and timely questions from Mindy Yang, Director of Leadership Development.
1. What are you watching, listening to, or reading this Women's History Month?
Daryn: I am reading a book that was a surprise Valentine's (Galentine's?) gift from a friend. Hungry Hearts is a collection of essays by a group of (mostly women) writers who share their personal stories of courage, love, loss and belonging. The anthology features the work of an intersectional group of storytellers writing their own unique perspectives, yet all sharing a desire to find purpose, community and resilience in the face of heartbreak, discomfort and fear. An appropriate book for the current time.
2. There's an indelible connection between successful women and grit, what does having grit mean to you? Can grit be taught?
Keisha-Ann: Grit is the ability to face your insecurities, take calculated and strategic risks despite your insecurities, and if your attempts don't work out, rebound and try again with an even stronger resolve. Having grit requires having the ability to see yourself where no one else like you may have gone. Grit doesn't necessarily come naturally. You can teach grit by instilling in young people, especially young girls, that they are inherently strong, smart, resourceful and, above all, worthy.
3. If you could dine with an accomplished woman from any era, who would you choose?
Daryn: Maya Angelou. Her life story and accomplishments have always inspired me, and her writing moves me. Her spoken voice is so strong and soothing. Anything she would say during that meal would make me feel nurtured and energized to do more.
4. What does "paying it forward" mean to you?
Keisha-Ann: Paying it forward means doing for others what I hope others would do for me, if needed. It means depositing "coins" of human kindness back into an "Opportunity Bank" in gratitude as well as recognition of the fact that I was able to withdraw from that "Opportunity Bank" when needed. It means ensuring that I do my part to replenish that bank so that others have the ability to withdraw from it like I have and thereby receive the same, if not more, opportunities.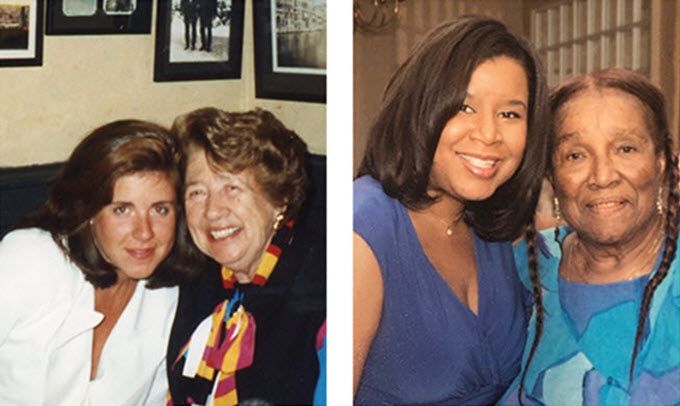 5. Was there someone in your family who fiercely championed your career?
Keisha-Ann: Without a doubt – my maternal grandmother Grace Veronica Rattray-Cato. She was a champion of my (and my siblings') education and career. A registered nurse and midwife, my grandmother worked days and nights to help my mother afford to send my brothers and me to the best private schools. Born in 1931 in Jamaica W.I., she was revolutionary, and always stressed the importance of independence, especially for women. In my grandmother's eyes, nothing was impossible for me and no one was better than me. She instilled in me a fierce sense of self, self-worth, and self-belief that nothing could stand in my way as long as I committed to my goal and prayed on it. It is truly because of her, her sacrifices and her love that I not only have the career I have, but that I am who I am.
Daryn: In my family, it was my paternal grandmother. Clara Lillian Axelrod Abramson was born in Brooklyn in 1912, the daughter of Russian immigrants. Her mother, Franya, was an accomplished dentist in Russia before immigrating to the US in 1908. When Franya arrived, language and educational barriers prevented her from being a licensed dentist (not that that stopped her from seeing patients). My grandma was proud of that intellectual heritage and was deeply affected by her mother's loss of status. My grandma was a college-educated, working woman who raised four children. She made it clear to me from an early age that I could do anything I set out to do. The pride on her face after my law school graduation ceremony is a memory I will never forget. It was as if some part of her family's history had been redeemed.
6. Between the #MeToo and #BLM movements, there seems to be a social reawakening and perhaps a sustained challenge to existing systems and structures; in your best moment of optimism, what is your wish and message for your children and their generation?
Keisha-Ann: My wish for my six year-old twin daughters and their generation is that they will never have to experience the things that my generation has – the experiences which led to the need for #MeToo and #BLM movements. I hope that our work will result in a future where they won't have the problems that we are enduring today.
Daryn: My children are 24 and 18. In my best moment of optimism, my children and their generation will believe that because of their advocacy, optimism (and grit), they have worked collaboratively to change this nation with my generation and others and ensure that we are guided by the principles of equity.